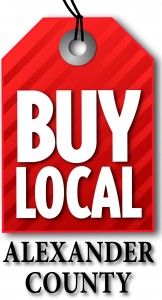 Did you know that sales taxes comprise 19%* of Alexander County's revenues? It is important that local residents (and visitors) spend their dollars here which in turn, boosts sales tax revenues. By increasing the purchasing of goods and services here in Alexander County, residents and visitors support the county, the school system, and the many businesses that have invested here.
The Alexander County Economic Development Corporation (EDC) is conducting a "Buy Local – Alexander County" campaign to encourage local shopping, whether it's for Christmas gifts, groceries, school supplies, going out to eat, tires, an automobile, or just snacks at a convenience store. Consumers' local purchasing of goods and services will support the county with the "point-of-sale" sales tax money, while supporting local business owners. If it's available here in Alexander County, why go somewhere else and let your tax dollars help other communities?
According to statistics from the NC Department of Commerce Division of Employment Security, approximately 12,000 people leave Alexander County each day for work, shopping, etc. If each person spent $5 while out of the county, Monday through Friday. that would total $1.2 million each month in lost retail sales that businesses in neighboring counties would receive.
While Alexander County may not have a shopping mall, there are many opportunities for goods and services that can be found here while supporting the "Buy Local" campaign. Sales taxes totaled $6,008,133 in 2012-2013, and increased more than $140,000 in 2013-2014 to $6,150,069! There are more than 500 businesses in Alexander County, which include 35 restaurants. These local businesses (and their owners) have made a significant investment in the community, and are deserving of the community's support. Click HERE to view business listings (if you see a correction that is needed, or if a business isn't listed, let us know).
The Alexander County EDC appreciates your support of the "Buy Local – Alexander County" campaign. Visit our Facebook page and join in the fun. Or if you are a local business owner, and would like a flyer to display in your store window, you can download it here: Buy Local – Alexander County.
For more information about "Buy Local – Alexander County," or if you have an addition/correction to a business listing, please contact Gary Herman at (828) 632-1161 ext. 306 or glherman@alexandercountync.gov.
*For Fiscal Year 2013-2014 General Fund