ALEXANDER COUNTY, NC (June 8, 2017) – The CVCC Alexander Furniture Academy is already making a positive impact on the community, both in terms of helping residents gain employment and helping Alexander County furniture manufacturers fill positions in sewing and upholstery.
The second session of the furniture academy graduates on June 19, and the third session begins on June 20 with 26 students enrolled. CVCC is currently taking applications for the January 2018 session.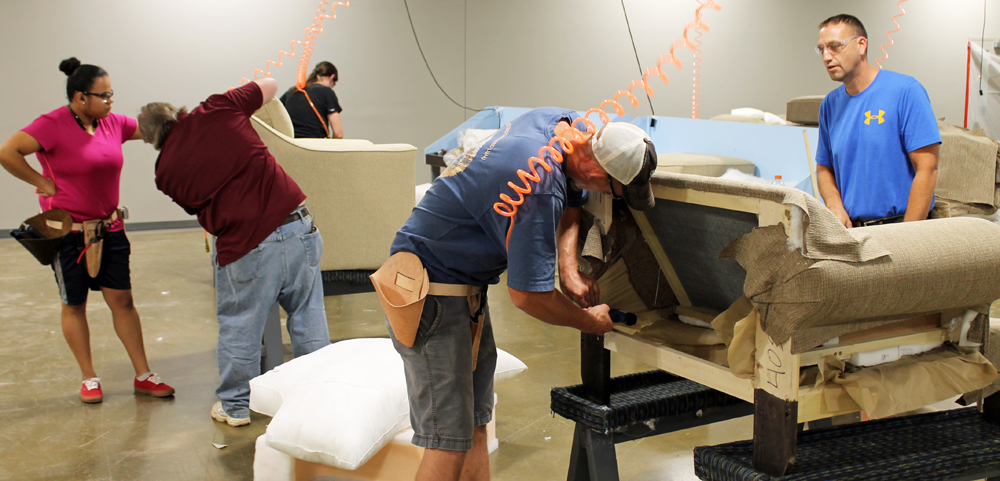 It seems that over the years, the skills of sewing and upholstery have slowly faded, leaving a void for furniture companies who need skilled employees. As the economy has improved over the past few years, furniture production has increased, but finding trained employees became increasingly difficult. That's where the idea for the CVCC Alexander Furniture Academy emerged, as a partnership began between Alexander County Government, Catawba Valley Community College, and local furniture manufacturers.
Roy Bearden, Senior Vice President of Manufacturing for Craftmaster, said that during the 2008 recession, many people believed that furniture was a dying industry, but the industry has come full circle.
"We've definitely seen an upturn in the economy. I've worked at Craftmaster for nine years, and we've been in a hiring mode that entire time," Bearden said. "We've doubled in size and employment, and our plan for the future is continued growth. Furniture never left North Carolina; it just slowed. If you build the right product at the right time at the right price, you'll be successful. It was necessary for all of us to work together to develop a way to recruit, train, and hire skilled workers."
Rick Ashley, Assistant Plant Manager for MG+BW, said they have been running an in-house training program for sewing and upholstery since 2008, and the academy reinforces their training program.
"Upon completion of the course, the graduates look more appealing to the furniture manufacturers. This helps the graduates land a career in furniture and better themselves and their family for the future. Just learning the basic skills is helping fill much-needed positions in the furniture industry," Ashley related. "Working with the graduates on the job, I have observed that they have a higher confidence level and this makes them feel more comfortable at performing their job duties."
Beth Propst, Vice President of Human Resources at Craftmaster, said that almost all furniture companies have had a tough time finding qualified employees.
"Finding skilled workers is definitely a challenge for human resources departments," Propst related. "The furniture industry is very competitive and there are not enough skilled workers. The furniture academy is helping us fill that void."
Gabrielle Sinclair, Human Resources Generalist for MG+BW, echoed Propst's remarks.
"As with other area manufacturers, we have been challenged with finding skilled labor in sewing and upholstery. We've used a variety of recruiting vehicles, but at times it can be difficult when you have several companies competing for the same pool of talent," Sinclair said.
Kevin Mann, Senior Vice President of Operations at Craftmaster, believes the furniture academy is an asset that will benefit Alexander County for many years.
"In the long run, this gives all of the furniture manufacturers in Alexander County an advantage because we're bringing in new people who will invigorate capacity for growth," Mann said. "There are not enough skilled workers in our area to keep up with the demand in our factories, so the furniture academy is a brilliant partnership with the Alexander County Commissioners, CVCC, and our furniture companies."
Bearden said the furniture academy saves furniture manufacturers both time and money as the new employees are hired with skills they learned at the academy.
"We get employees that have received approximately 30 percent of the training that will get them through the skills test to get them hired," Bearden related. "They have also been exposed to most of the sewing equipment and methods that are used in our industry. On the upholstery side, they are trained in the traditional 'buck' method as well as the team-based rail system."
Linda Graham, Executive Director for the CVCC Alexander Center for Education, said the students not only learn to build furniture, but they also build relationships.
"As I have had the pleasure to meet all the students who attend the CVCC Alexander Furniture Academy, I have come to the understanding that these students gain so much more than sewing or upholstery skills – they gain a family. It is not uncommon for them to pitch in and bring food to class to share with each other during breaks. They also take care of each other if a peer is out sick or experiences an unfortunate family circumstance."
Eunice Mays, Coordinator of the CVCC Alexander Furniture Academy, said the first course for the academy in 2016 was a learning experience for everyone, but the success is obvious.
"Over the course, you become a small family. I am proud of each one of them. The academy is a great learning experience for all the students," Mays stated. "The students have the opportunity to better their lives and the lives of their families, if they work hard and apply themselves."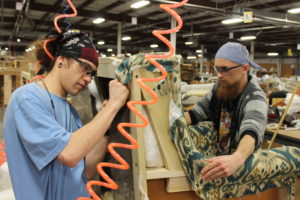 STORIES OF SUCCESS
Already, there are many success stories to be told. During interviews with academy graduates at Craftmaster and MG+BW, the success is evident as the students are already working with confidence, and their supervisors and upper management are excited to be moving forward with quality employees.
Corey Bowen graduated from the first session of the furniture academy, and is now an upholstery trainee on the chair line at Craftmaster Plant #3. Bowen said he had previously worked in retail, and had taken some classes at CVCC, but when his friend told him about the furniture academy, he decided to apply.
"I honestly wouldn't want to do anything else right now," Bowen said with a smile. "We are manufacturing with pride here in Alexander County, North Carolina."
Bowen said he didn't have any prior furniture experience, but he has always been good with his hands. Plus, his grandfather and other family members have a history of making furniture.
"I decided to take the furniture academy course and got a job almost immediately," Bowen related. "Here at Craftmaster, they evaluate my performance every four weeks, and I've gotten a couple of 50-cent raises already. My speed has definitely increased and I've learned a lot of things. The academy helped with cross-training, as you had to do every job on the upholstery line."
Working alongside Bowen at Craftmaster is 24-year-old Hunter Wilkinson. He was hired by Craftmaster after completing the furniture academy. Wilkinson attended the information session for the furniture academy, and decided to apply.
"It's a five-month course, but in three months, I already had a job with Craftmaster," Wilkinson said. "It's a great opportunity, and Craftmaster is a fabulous company."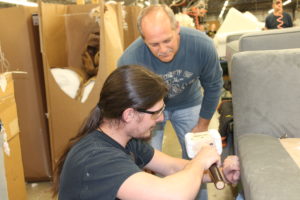 Wayne Chapman, leather upholstery supervisor at MG+BW, has worked there for 27 years, and served as an instructor for the first session of the furniture academy.
"We need the furniture academy because many of our employees are getting older, and we need a new generation to come in," Chapman said. "The students learn new skills that help them support their families, and it fills a void in our company."
Chapman said he is happy to have employees who are excited to be a part of the team, who want to learn, and who want to build furniture as their career.
One of the success stories at MG+BW is Storm Slape. He was already employed with MG+BW as a frame materials handler, but wanted to advance in the company so he took the upholstery course at the furniture academy.
"It was an honor learning at the academy because each night we would talk about what we'd learned," Slape stated. "After graduating from the academy with this experience, we had learned the basic skills where we could walk into a factory and learn to build arms, backs, seats, and more. The training definitely made me more confident in my abilities, and I'll spend less time on the training line. I enjoy doing it, just knowing that you built a piece of furniture that will go into someone's home."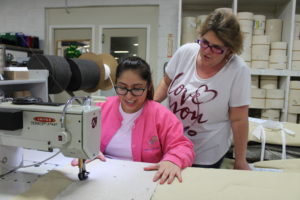 On the sewing operator side, Lisa Burchette, who has worked at Craftmaster for 26 years, is a sewing supervisor at Craftmaster and she has witnessed first-hand the success of the furniture academy graduates.
Erika Torres was already working at Craftmaster on the roll-up table for about a year, but she wanted an opportunity to advance and make more money, so she completed the sewing training at the CVCC Alexander Furniture Academy and is now a flatwork sewing machine operator.
Burchette said the furniture academy put Torres on the path to greater success. "The academy gave her a new opportunity. The graduates receive exposure to all of the basics you need to know in the furniture industry."
Torres said she now has two skill sets and earned a $2 per hour pay increase.
"Money is a factor, but I wanted to learn new skills. I like to stay busy," Torres said. "The trainers were very helpful at the academy. My training really paid off in terms of money and skills. I highly recommend the furniture academy. I am comfortable with a sewing machine after five months of training, and I'm gaining confidence."
Bearden said, "Over six to 12 months, their pay will increase as we evaluate them every four weeks. Once they become proficient, they will be promoted to the production line for sewing where they earn piece-based pay."
Burchette said their prior training allowed them to start the new sewing job without fear or intimidation. "As the academy grows, our company can grow and our sewing department can grow because we'll be able to find skilled workers. It's good to have workers who come in who are already knowledgeable."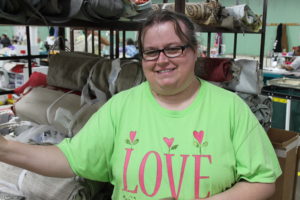 INSTRUCTORS TAKE PRIDE
Crystal Lackey is employed at Craftmaster, and was hired by CVCC to be a sewing machine trainer and lead person for the furniture academy. She said being a trainer provides additional income for her family, but she enjoys helping students learn new skills. "As a trainer, it's exciting to see their excitement and pride," she said.
Bearden said he believes being a trainer at the furniture academy has also helped Lackey and other instructors become better supervisors at their day jobs.
Ellen Smith, sewing cloth supervisor at MG+BW, has worked there for 24 years and was excited to be asked to help train students at the academy.
"The furniture academy is going to be a huge success because we have people who are eager to learn. There are students of all ages, and they all have very positive attitudes," Smith related. "I feel honored to be part of the academy, because it teaches the students more than skills, it also teaches pride. I like to see people succeed."
Darlene Charles, fabric cushion sewing supervisor at MG+BW, has worked there for 17 years, and serves as an instructor at the furniture academy.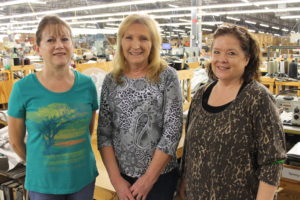 "I see a lot of value in having a furniture academy here in Alexander County. Most of the students are hired before they even graduate, or immediately afterward," Charles said. "I'm very proud to be a part of the accomplishment of these students, plus I think it helps me on the job as a supervisor. I remember being where they are now when I first started working in furniture."
Jackie Smith has worked at MG+BW for 12 years, and helps with instruction at the academy every other week.
"The students are eager to learn. There is a need for the furniture academy, because it helps make our furniture manufacturers successful," Smith stated.
"The trainers all worked together as a team to help the students. They take a lot of pride in these students," said Bearden. "We run the furniture academy like a factory, because it is. Our focus is to train, but we also want to develop graduates who are ready to enter the workforce."
Ashley expressed his appreciation on behalf of MG+BW. "I am proud to have the furniture academy in Alexander County," he said. "I would like to offer a special thanks to everyone that made this program possible for the students and the furniture industry."
Graham praised the partnerships that were created in Alexander County to make the furniture academy happen.
"The great partnership with our local furniture companies has been tremendous, to say the least. The academy would not have become a reality without their involvement, and the vision of Alexander County and CVCC leadership," Graham said.
For more information about the CVCC Alexander Furniture Academy, call (828) 632-8221 or visit www.cvcc.edu/About_Us/Buildings_Centers/Alexander_Center/Alexander-Furniture-Academy.cfm.
(Note: The following article is part one of a two-part feature on the CVCC Alexander Furniture Academy regarding the success of the students upon graduation. Interviews and photography by Gary Herman of the Alexander County Economic Development Corporation.)