This episode of the Alexander County EDC's "Business Spotlight" features Elliott Guitars, located at 545 Johnson Farm Road in Hiddenite.
EDC Small Business Development Coordinator Gary Herman interviews owner Andy Elliott, who has a unique story to tell about his guitar manufacturing business. Elliott and his four full-time employees handcraft custom electric guitars with pride right here in Alexander County. He started the business in 2006.
"We go to extreme degrees to try to produce instruments that stand above in the industry today," Elliott stated. "I like to say that we build new, vintage guitars."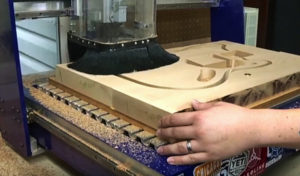 Elliott Guitars is the guitar of choice for many famous musicians, including Peter Stroud (guitarist for Sheryl Crow), Elliot Easton of "The Cars," Drew Shirley of "Switchfoot," James Mead of "Kutless," a number of guitarists for Elevation Church… just to name a few.
"We are really fortunate to have a lot of good friends in this industry," Elliott said.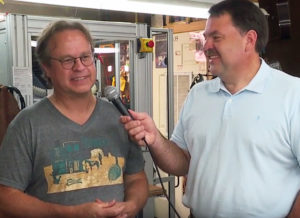 The Elliott Guitars crew focuses on three things when manufacturing a guitar: playability, tone, and cosmetics. They achieve these goals with cutting-edge technology and craftsmanship.
"We take great pride in our work, which is our blessing and our curse," Elliott said with a smile.
He said their guitars are recognized across the nation and the globe, as they sell guitars to musicians all over the United States, as well as England, Norway, Netherlands, Germany, and many other countries.
The shop also does guitar repair work, but focuses primarily on new guitars. Business hours are 9:00 a.m. to 5:00 p.m. most days (except Sundays), but customers should call before visiting. The phone number is (828) 632-0020.
Visit www.ElliottGuitarsNC.com for more information. You can also find them on Facebook, Twitter, and Instagram.