RALEIGH, NC (October 5, 2016) – The North Carolina Chamber Foundation is pleased to announce that it has approved Alexander County as a NC Works Certified Work Ready Community (CWRC).
Meaghan Lewis, Government Affairs Manager for the North Carolina Chamber, presented the CWRC certificate to Alexander County representatives at a ceremony held Friday, Sept. 30 at 4:00 p.m. at the CVCC Alexander Applied Technology Center. Alexander County Commission Chairman Ryan Mayberry, along with members of the local CWRC Steering Committee, accepted the certificate on behalf of Alexander County.
View a photo slideshow of the CWRC ceremony held on Sept. 30 in Alexander County.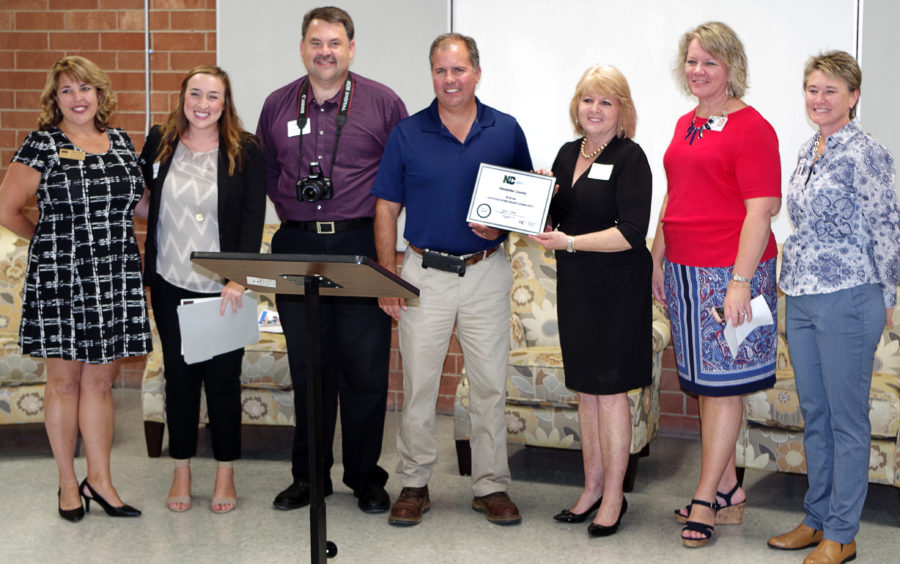 According to the NC Chamber, Alexander County is one of only 19 certified counties in the State of North Carolina. Twenty-two other counties are currently in the application process.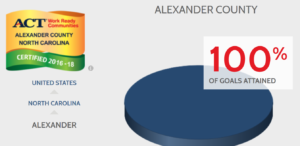 Lewis said that being a Certified Work Ready Community sends a message to potential employers that Alexander County is ready for business.
"This provides the framework to empower counties with the data, processes, and tools that drive economic growth. This initiative is a collaborative effort that aligns education, workforce development, and industry in order to fill the growing skills gap," Lewis said. "Ultimately, being a NC Works Certified Work Ready Community signals to business that workers within the county have the foundation and skills to make their businesses a success. The end result is more skilled and employed workers, more prosperous businesses, healthier communities, and a secure future for North Carolina."
Lewis stated that Alexander County has already demonstrated its commitment to workforce readiness, well surpassing the certification goals by awarding approximately 1,230 National Career Readiness Certificates and engaging almost 40 businesses in this initiative.
Alexander County Economic Development Corporation Executive Director David Icenhour congratulated all involved on the certification.
"The word 'certification' is important in any career field. But in economic development, we are really in tune with that word, 'certified'," Icenhour said. "In the past, when I talked to potential employers about the workforce in Alexander County, I would use words and phrases like 'highly skilled,' 'motivated,' or 'craftsmanship.' All of those will continue to be true. But now, thanks to all of you, I get to add the word 'certified' which emphasizes the high quality of the workforce in Alexander County."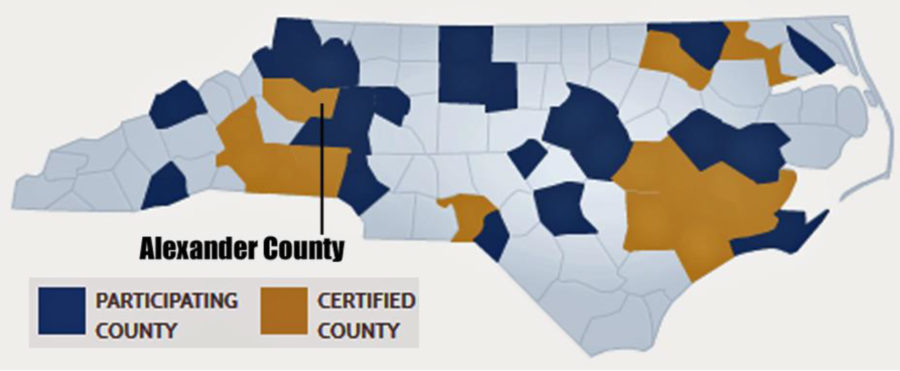 Wendy Johnson, Director of Workforce Development for the Western Piedmont Council of Governments, believes this certification will be a true asset for Alexander County.
"The skill set of our workforce is reflected in work related assessments that result in a Career Readiness Certificate (CRC). Knowing the skills a new hire possess before hiring them can positively impact a business's bottom line," Johnson stated. "Now that Alexander County is a NC Works Certified Work Ready Community, they are poised to be a beacon for future business sustainability and expansion."
To be certified as a NC Works Certified Work Ready Community, a county must meet each of the following criteria:
• A letter of commitment to workforce excellence from county leaders.
• Progress in the high school graduation rate toward the goal of 94 percent.
• Achieve the number of National Career Readiness Certificates (NCRC) indicated in the Common Criteria.
• Gain commitment from employers to recognize the NCRC.
The NC Works Certified Work Ready Community initiative is a collaborative effort between workforce development partners, including the Office of the Governor, the North Carolina Chamber Foundation, the North Carolina Department of Public Instruction, the North Carolina Community College System Office, and the North Carolina Department of Commerce, aimed at leveraging data and analysis tools to continue economic growth in North Carolina. The North Carolina Chamber Foundation serves as the final certifying body to designate a NC Works Certified Work Ready Community.
For more information about Alexander County becoming a NC Works Certified Work Ready Community, visit www.workreadycommunities.org/NC/003.
About the North Carolina Chamber Foundation:
The North Carolina Chamber Foundation, the policy center for the state's largest, broad-based business advocacy organization, works to promote the social welfare of North Carolina and its citizens by identifying, investigating, studying, researching and analyzing, in a nonpartisan manner, the factors that enhance the business climate, workforce development and quality of life of the state, including the prospects for the creation and retention of jobs for the state's citizens, and educating and instructing the business community and general public by disseminating and publishing the knowledge gained as a result. North Carolina Vision 2030 – A Plan for Accelerating Job Growth and Securing North Carolina's Future is coordinated by the North Carolina Chamber Foundation. The forward-thinking, initiative-driven plan provides focused economic development strategies around its four "Pillars of a Secure Future," which include Education and Talent Supply, Competitive Business Climate, Entrepreneurship and Innovation, and Infrastructure and Growth Leadership. For more information, visit www.ncchamber.net/foundation.