HIDDENITE, NC (January 16, 2013) – Rocky Face Mountain Recreational Area, also known as Rocky Face Park, reached a significant milestone on January 4 as the park exceeded 10,000 visits in less than eight months. The park officially opened on May 25, 2012.
The park, which is about 318 acres in size, has approximately four miles of hiking trails, a one-third-mile paved walking trail in the former quarry area, a picnic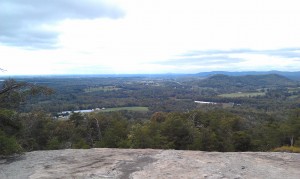 shelter and restroom facilities, and scenic views from the top. The park project was made possible by a $477,000 grant from the NC Parks and Recreation Trust Fund (NCPARTF), and donation of the property by the Carolina Land and Lakes Resource Conservation and Development District. Additional assistance related to the land donation and to acquiring additional land was provided from the Felburn Foundation.
The visitor log shows that the primary uses for the park are: hiking – 46 percent; walking – 30 percent; picnicking – 13 percent; educational – 6 percent; wildlife observation – 3 percent; geocaching – 1 percent; and rock climbing – 1 percent.
James "Burkie" Jennings, Chairman of the Alexander County Board of Commissioners, said he believes the park serves a true need in the county.
"Achieving this visitation benchmark in such a short time shows that Rocky Face Mountain Recreational Area is something that was needed in the county as it provides a myriad of outdoor activities for our residents and visitors," Jennings stated. "We are proud to have such a unique park setting which was created at little cost to the county. We hope to continue to develop and enhance the park for years to come so we can provide recreational opportunities that everyone can enjoy."
Alexander County Manager Rick French expressed his appreciation to everyone involved in making Rocky Face Park a reality.
"So many agencies and people came together to make this park happen. I am very thankful for the land donation and the PARTF grant because this would not have been possible otherwise," French said. "Through the hard work of many people, I believe this park is a tremendous recreational asset to our county. I encourage all of our citizens to visit Rocky Face Park, whether it's for hiking, breathtaking views, a walk around the track, or just a picnic with family. The park is a great place to enjoy the great outdoors and get some exercise."
Park Ranger Alisha Stamey said she believes that the park's uniqueness adds to its appeal.
"The mountain has a distinctive history dating back hundreds of years. Its unique ecosystem is home to many rare plant and animal species, and I'm glad that the county was able to transform the mountain into what it is today," Stamey related. "A lot of people worked hard to protect this property, and now all citizens are able to enjoy its beauty and amenities. We are excited that so many people are enjoying this beautiful park right here in Alexander County."
Stamey said that more than 2,000 of the park's visitors have been from outside Alexander County.
"We are getting quite a few visitors from other areas of the state, and some are even coming from out of the state," Stamey said. "Economically, this is good for our county, and as we add more amenities to the park I'm sure we will attract even more visitors."
While rock climbing and geocaching currently comprise only two (2) percent of visitations, park staff believes both activities will gain popularity in the coming months.
The former quarry has long been a destination for rock climbers, and park staff is currently working with the Carolina Climbers Coalition (CCC) to promote the park as a rock climbing destination. The CCC, a non-profit volunteer organization, will be undertaking a project to inspect and likely replace all existing climbing hardware which climbers have installed over the last 20 years. This project will be completed with volunteer labor provided by the CCC and hardware purchased by Alexander County. The Coalition will also provide assistance in creating a route guide for climbers. For more information about the Carolina Climbers Coalition, visit www.carolinaclimbers.org.
Another interesting feature of the park is geocaching. Geocaching is a free real-world outdoor treasure hunt in which players try to locate hidden containers, called geocaches, using a smartphone or GPS device. There are currently 17 geocaches located within the park's boundary, and searching for them is a fun way for visitors to explore the entire park. For more information, visit www.geocaching.com.
The park, which is located at 3451 Rocky Face Church Road in Hiddenite, is open 360 days per year (weather permitting) and will close a total of five days during New Years, Thanksgiving, and Christmas. Currently, park hours are 8:00 a.m. to 5:00 p.m. through Feb. 28.
Rocky Face Mountain is located in the northern part of Alexander County and is considered to be the southern edge of the Brushy Mountains. The mountain is a dome shaped mass of granite with a maximum elevation of approximately 1800 feet above sea level. The summit is approximately 600 feet above the surrounding terrain. Much of the terrain is steep and rocky and the overall outline of the mountain lies in a northeast to southwest orientation with long sloping steep slopes on each end. In addition to its scenic beauty, Rocky Face Mountain Recreational Area is on the North Carolina Registry of Natural Heritage Areas.
For more information, visit www.rockyfacepark.com or call (828) 632-1093.