Alexander County has ample education and training opportunities, including a top-notch school system and a community college.
Alexander County has the only satellite site for Catawba Valley Community College. In 2012, Alexander County Commissioners voted to expand the existing 15,000 square feet facility by purchasing an adjacent building containing approximately 38,000 square feet which will be used for training workers in the areas of sewing, upholstery, and welding. The training facility will play a critical role in workforce development by providing a wide range of worker training for existing employers and for those considering re-locating or expanding in Alexander County.
Located in Taylorsville near U.S. Highway 64, the existing community college facility includes 10 classrooms, office space, conference room, and a large multi-purpose room that is used as a meeting room for county commissioners and for meeting space for other government events.
For more information about the CVCC Alexander Center, visit the website HERE.
Customizable Industrial Training services are offered through the Catawba Valley Community College's Industrial Training Service and North Carolina State University's Industrial Extension Service.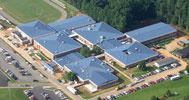 The Alexander County School System consists of one high school (Alexander Central, grades 9-12), two middle schools (East Middle and West Middle), and seven elementary schools (Bethlehem, Ellendale, Hiddenite, Stony Point, Sugar Loaf, Taylorsville, and Wittenburg). Visit www.alexander.k12.nc.us for more information about the Alexander County School System.